[[Editor's note: The name "Fred" is a pseudonym NBC10 Boston is using to protect the interview subject's identity.]]
As Fred lifted his pants leg he winced in pain. His jeans, damp from the freshly fallen snow, stuck to the open scab that stretched from his knee to his ankle, peeling away bits of skin as he revealed his wound.
"It's amazing how fast it spreads. My leg actually looks like I got eaten by a zombie," he said.
Fred knew this was the result of something he took. He struggles with drug addiction and turns to opioids to make life on the streets of Lowell a little easier to bear.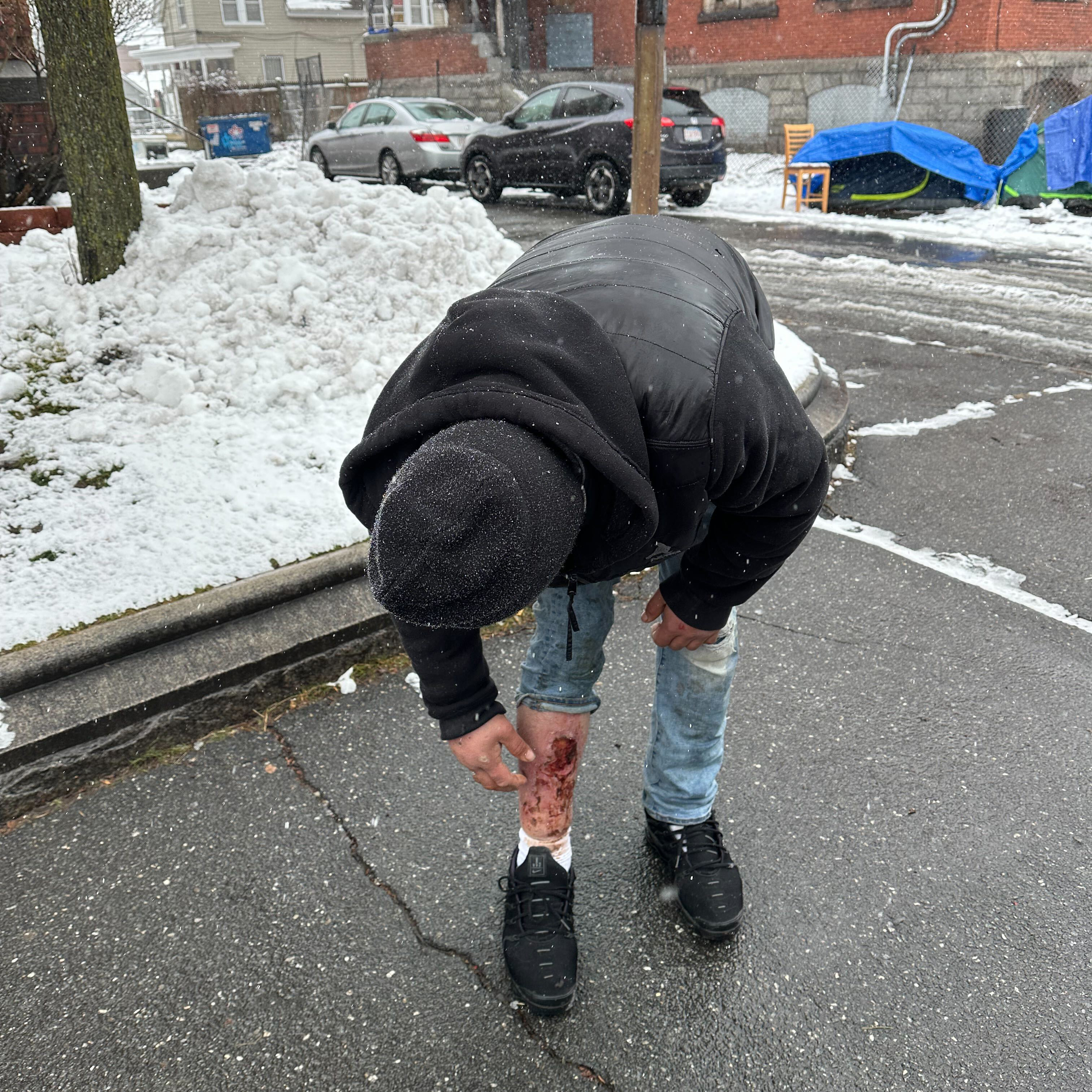 He had no idea what caused the weeping and bloody wound on his shin until he went to the hospital. There he learned the substance he took was laced with Xylazine, a sedative used by veterinarians to sedate large animals and livestock. In humans, the drug can cause abscesses, ulcers, and prolonged periods of sedation.
"From what I've seen and what I experienced myself, it's definitely a totally different drug," he said.
Scientists believe Xylazine limits the body's ability to fend off infection, but not much is known about the full extent of its impact on the human body.
"What we hear is that Xylazine gives fentanyl legs, which means that it would extend the sort of duration of each time the person would use that they would feel something," said Steven Murray.
Murry does overdose research at Boston Medical Center. His work focuses on the relationship between public health and public safety. He said most of what researchers know about Xylazine is from anecdotal evidence.
"Part of the problem is that there's very little research in humans as to how Xylazine affects the body," he said. "We're kind of learning things on the fly. There aren't a whole lot of 'Xylazine in humans' experts at this time."
Though Xylazine's been in the illicit drug supply for nearly two decades, Murray said there's been a recent surge in its use. The drug extends the "high" brought on by opioids. Since 2020 the drug has steadily crept across Massachusetts via the I-90 corridor.
Murray said last spring Xylazine was found in 80% of drug samples from western Massachusetts, but by the summer he was seeing similar numbers in samples statewide.
The drug's growing presence has caught the attention of law enforcement, the FDA, and state health officials.
"We're seeing patients that are being admitted into the ICU across the state, not just here in Boston, for sort of all of these different consequences of having Xylazine in the supply. We are hearing from some of the other hospitals around the state that they have been seeing people with very severe wounds that often are taking either a very long time to heal or that are resulting in amputation," he said.
As the drug ate away at Fred's leg, his girlfriend's hand began to show similar signs.
The pair went to Lowell's Life Connection Center for help. Coincidentally CEO Jaime Dillon had recently heard about the dangers of Xylazine herself
"We just started asking people like, 'Hey, so by the way, we were at this meeting, you know, do you guys feel any different? You feel like, you know, things are like you feel worse or how do you do you have any weird, like wounds?' And it was almost like a light bulb went off," she said.
The NBC10 Investigators tagged along with Dillon as she trekked through Lowell warning the city's homeless to be on alert. On the street, Xylazine is known as "Tranq" because it puts people to sleep for prolonged periods of time. On a recent bitterly cold night Dillon found one of her clients passed out in a doorway
"We found someone that was in a doorway, like just in the snow. And he was frozen," Dillon said. "He didn't even have on a coat. He just said that he was there for, I don't know, four or five hours or something like that. He said that if we didn't stop and find him, that he probably would have died."
Given the dangers, Dillon says there's a real sense of urgency to raising awareness about Xylazine. Twenty-five miles away at Brandeis university, there's a similar urgency to find out where the drug is most prevalent.
"First, we saw little and then we saw a little bit more. Now we're seeing it in more places and in higher concentrations, which is the concern," said Brandeis University professor Traci Green. "I think we don't know enough about the drug itself, especially in humans."
At the Opioid Policy Research Collaborative at Brandies University Green and her students use cutting edge technology to not only detect whether a drug sample contains Xylazine, but how much it contains.
"We'll hopefully have a chance soon to be able to match up Xylazine in the drug supply with what people are experiencing," she said.
Green says understanding what a little or a lot of Xylazine can do is essential to mounting a response. Using a program called Street Check, the drug supply data collected here is sent to community partners across Massachusetts.
"[We're] learning and understanding what the supply shows us, trying to work to reduce the harm of the supply. That means knowing where it is and mounting a response, working with collaboratively with our community partners, preparing our hospitals, preparing our treatment programs, and preparing public safety to better address the problems as they emerge."
Armed with that information Dillon is determined to protect people in Lowell. Fentanyl remains her number one adversary, so she always carries Narcan with her. But she said therein lies perhaps xylazine's most insidious trait.
"It's not an opioid. That means Narcan doesn't work," she said.
Scientists are working on developing a test strip for Xylazine like the ones developed to detect fentanyl. Members of Congress have even floated the idea of making it a controlled substance while still maintaining access to the drug for veterinarians.
For now, Dillon says awareness is her best weapon.
"We really want them to understand how serious it is," Dillon said.
Fred is well aware of the risk, but he struggles with addiction. Whether it's heroin, fentanyl or now Xylazine, he said his addiction often wins.
"People say, 'Why don't you just stop doing it? Stop doing it, get away from it,' he said. "It's not that simple. I wish it was."