Clouds are finally losing out to sunshine. A storm that began on Tuesday lingered into the weekend with another six inches of snow in Maine early Saturday. The grand total for the storm goes to Jay Peak Resort on the Canadian boarder in northern Vermont. The upper low pressure area spinning overhead for much of the week is just far enough to our east now, allowing high pressure from the Midwest to dry our skies.
Highs near 40 Sunday are warming a bit each day through Wednesday. We do, however, have a minor backdoor cold front Monday night with many clouds returning for Tuesday, along with a chilly inversion in northern and eastern New England. Often chilly inversions come with low clouds, as was the case here at Mount Mansfield Sunday.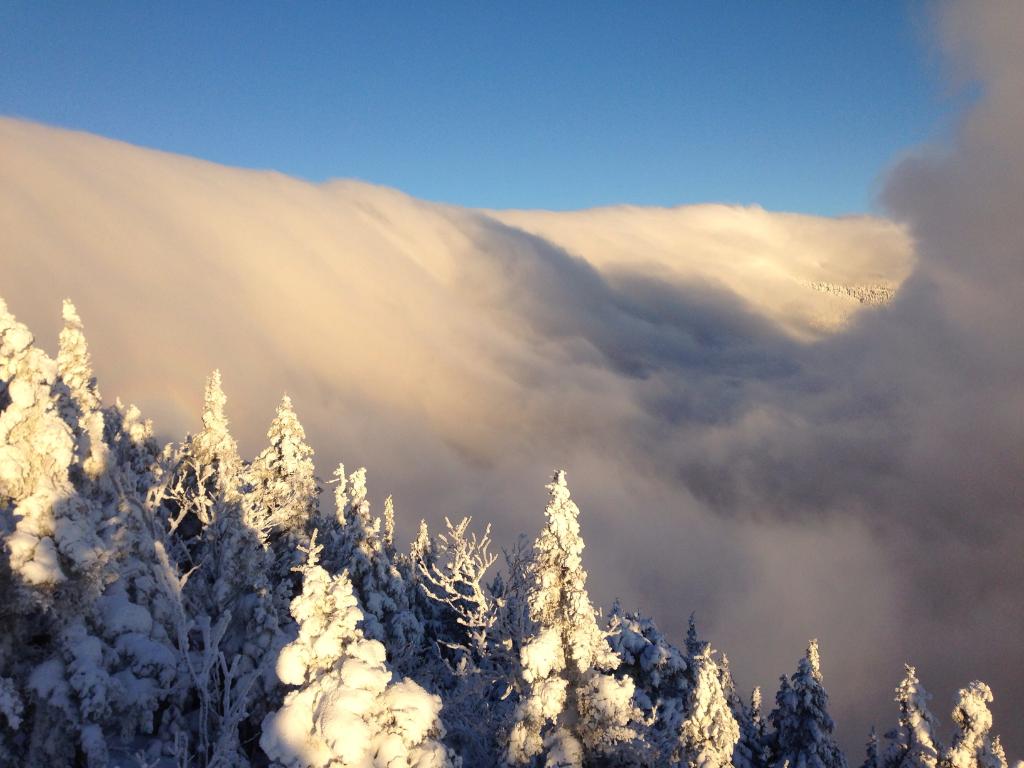 On Wednesday, the remnant of California's strongest storm in a dace will push into the Great Lakes states. That track means warmer weather in New England. It is a much weaker system now, so only minor to moderate amounts of coastal rain and mountain snow are expected Tuesday night and Wednesday. Our mountains get a couple days of snow, with several inches likely Wednesday and Thursday.
Southern New England will warm to near 50 Wednesday with breaks of sunshine. Colder wind and drying air is forecast for Thursday and Friday with highs back down to the 30s. The weekend outlook calls for a potential nor'easter. Clouds increase Saturday with rain and snow likely for southern New England late in the day or at night. Sunday is a tough call, the storm either heads out to sea, or bears down for heavier rain and inland snow on Sunday.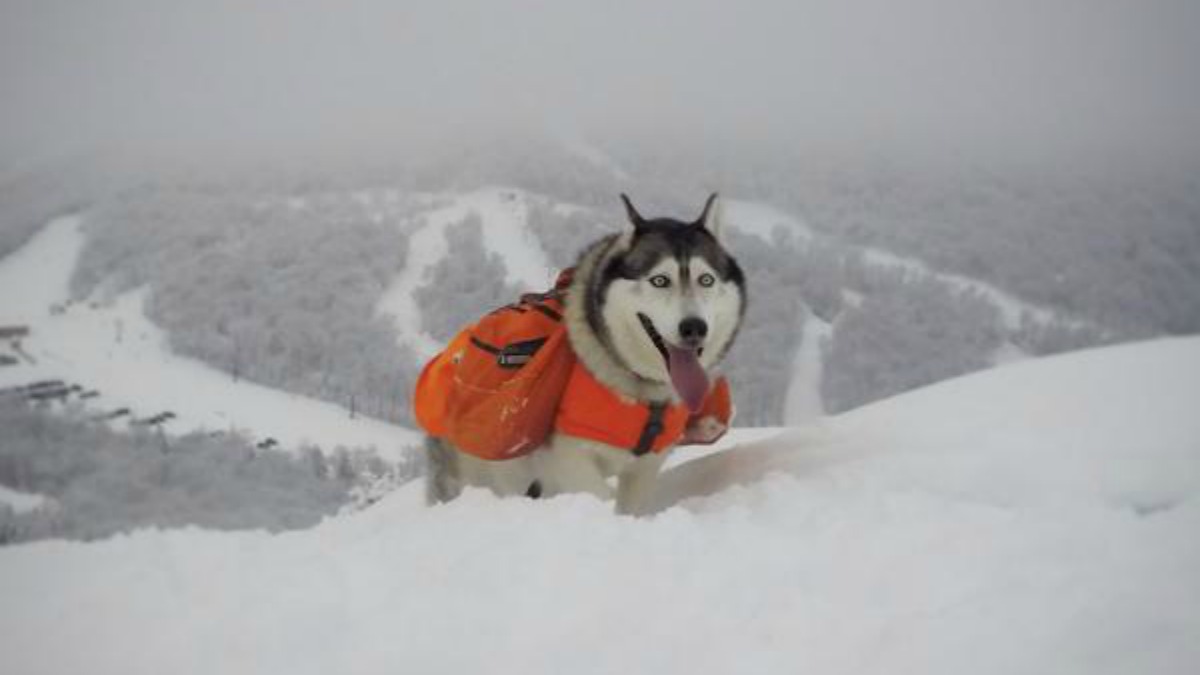 Then, on Christmas week, we see the return of Arctic air in Canada. That chill combined with the continued parade of storms of the Pacific into the west coast means higher than average odds for a White Christmas from coast to coast, including southern states that rarely experience snow cover on Dec. 25, or any other day, for that matter.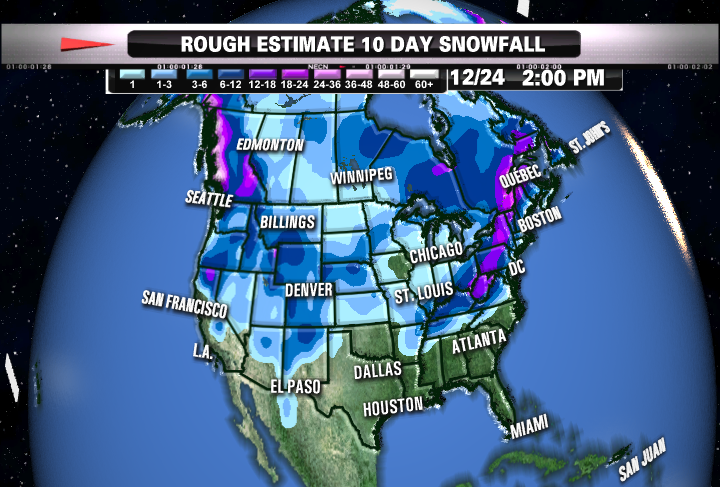 We also need to pay attention to the pattern established the last three weeks in New England. We had a historic pre-Thanksgiving snow storm, then a week off from a major storm, then another historic snow and ice storm in Vermont. If that pattern continues, we may be in for serious weather disruption again Christmas week. The long-range weather guidance indicates potential for three more major storms, followed by bitter cold, before or by New Year's Eve.

And here is a weather discussion just for me and my friends in Northern Vermont:
We have a winner! Jay Peak Resort cleared THREE FEET of snow in the last storm (darn, I missed by a foot, only forecast 24 inches, will try and do better).
Sure, there is a crispy layer way down there. Consider that the solid base above which we will ride until April.
One unbiased observer from around the corner summed it up this way:
"The Jay Cloud came thru again and gave us the goods while skipping over many other resorts on Friday and Saturday. The resort is approaching 100 percent open terrain, and the high elevation back country is even skiable at this point. Plenty of people dropped into the Dip and even the Big Jay Basin over the past 3 days. You'd be hard-pressed to find better skiing anywhere in N. America right now w/ that nasty warm air that killed the West last week."
While Mother Nature takes a little break, we get to enjoy light wind, sunshine and mild air for Monday and early Tuesday.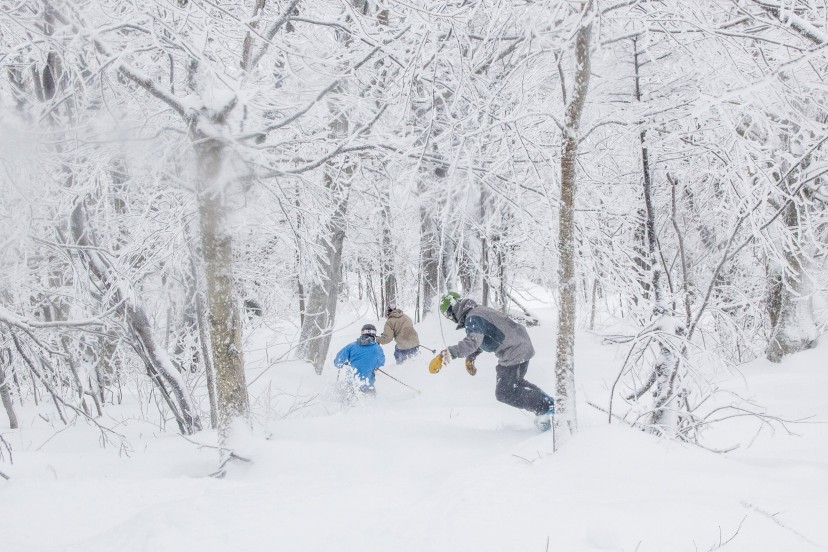 Mother Nature reports back to work Tuesday afternoon. Clouds lower and thicken rapidly Tuesday as low pressure and it's attendant warm front pushes into the Great Lakes. That low is much weakened remnant of California's worst storm in five years. It's track into Ontario favors much warmer air and a rain threat. Thank goodness the low will try and jump over the Green Mountains and redevelop in the Gulf Of Maine Wednesday. The net result is a few inches of wet snow Wednesday followed by yet another Jay Cloud. The temperature maxes near 35 Wednesday, then falls back through the 20s to the teens Thursday and Friday. The Gulf of Maine low pressure center will strengthen and stall over Nova Scotia, generating enough moisture and northerly flow for another extended Jay Cloud snowfall.
Here's The Ski Resort Forecast:
Monday: Sunshine (possibly above an inversion cloud) and light wind, high temperature 33 degrees.
Tuesday: Clouds thicken, snow develops by sunset. High in the 30s.
Wednesday: Snow, or a mix back to snow, high in the 30s.
Thursday: Snow and wind, high in the 20s.
Friday: Snow showers, less windy, high in the 10s.
Total Accumulation 12"
Outlook for next weekend: Nor'easter possible.
Record December Snowfall Watch now in effect for Northern Vermont to Northern Maine.