Although not quite as warm as yesterday, once again much of New England approaches 90 degrees this afternoon.
The exception is in northern and eastern New England where a little bit of cooler air keeps coastal Maine and coastal Massachusetts in the 70s, with a light breeze in from the ocean. There's a weak front and enough instability to pop up a few scattered showers and a thunderstorm late in the day and early this evening.
[CLICK HERE FOR WEATHER ALERTS]
Skies will partially clear in southern New England overnight, but the threat for showers and thunderstorms increases for Northern New England overnight tonight.
Mild and somewhat muggy overnight with a low temperature in the 50s to low 60s.
Any clouds burn off to a mixture of sun and clouds tomorrow, once again the threat for afternoon showers and thunderstorms, this time a little bit more widespread.
[CLICK HERE FOR INTERACTIVE MAPS & RADAR]
Warm to hot and humid with a high temperature near 90°, cooler at south facing shorelines.
Wind generally from the west and southwest 10 to 20 mph.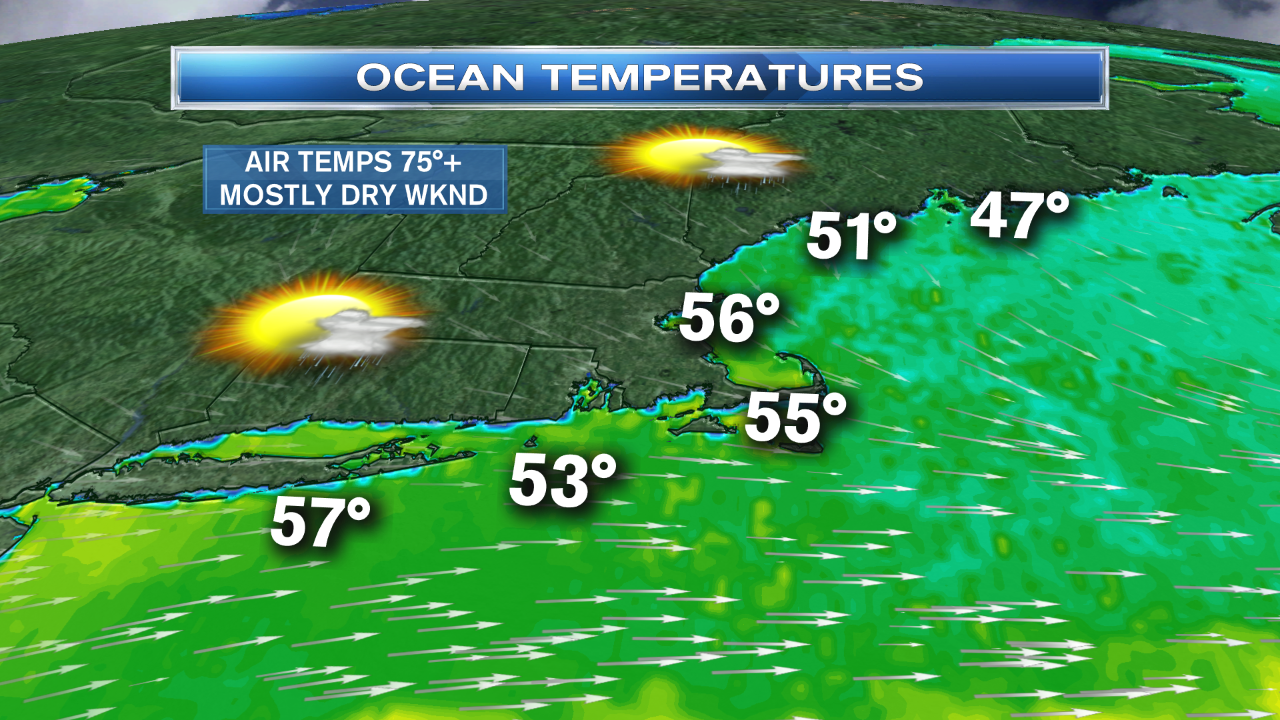 A frontal boundary nearby is the reason we have to keep the threat for a shower and the thunderstorm in each afternoon and evening through our Memorial Day Weekend.
It looks like the front may slip a little bit further south on Sunday, so Sunday could end up cooler at the shore with a lot of clouds and patchy fog.
[CLICK HERE FOR YOUR VIDEO FORECAST]
If you're looking for the best beach day, probably Saturday, and again later on Monday are most favorable at this time.
As for the Lakes and Mountains of New England, there is a high probability of Thunderstorms with heavy rain, small hail, and gusty winds each afternoon and evening.
Temperatures are rather warm 60s 1000-2000', 70s and 80s at lower elevations.