A powerful cold front moved through New England Sunday morning. Severe thunderstorm warnings were issued from the Green Mountains and Berkshires – east to the coast. Most thunderstorm wind gusts were around 50 MPH, but because of the drought, the trees are stressed and week so that lead to widespread wind damage.
As of Sunday afternoon there were 109 wind damage reports across New England. Tens of thousands of people were left without power in Massachusetts, Vermont, New Hampshire and Maine. Unfortunately we didn't see much rainfall with these storms.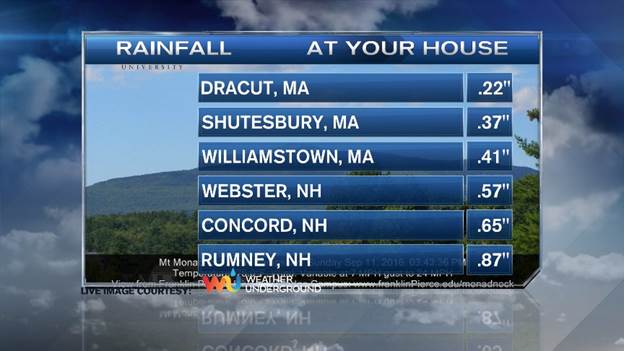 Most areas received less than an inch and locations along and south of the Mass Pike received less than a tenth of an inch.
Massachusetts
The latest news from around the state
If you haven't enjoyed the heat and humidity, there is some great news in this forecast. Dew points have dropped from the 70s into the 50s and by Monday morning they will likely be in the 40s. Enjoy this taste of fall!