Heat and humidity are reaching a peak Thursday and Friday, with temperatures climbing into the 90s and dew point temperatures - a measure of the moisture content in the air - reaching the middle 70s, indicating that truly tropical air has arrived.
The combination of heat and humidity creates an uncomfortable and potentially dangerous steam bath feeling, with heat index values over 100 degrees for many communities both days.
Massachusetts
The latest news from around the state
A heat advisory stretching along the East Coast is in effect, and Boston Mayor Marty Walsh has declared a heat emergency effective through Saturday.
In Connecticut Thursday, severe thunderstorms passed through over the course of the afternoon and evening.
Warnings in Fairfield and Putnam counties are in place until 9:15 p.m.
The warnings have been issued because dangerous thunderstorms are producing damaging winds over 58 mph and/or hail of at least one inch in diameter. Our Early Warning Weather Team is providing live radar coverage of the storm on-air and online if your neighborhood is in a Severe Thunderstorm Warning, seek shelter inside, away from windows. Though lightning is not a factor in the issuance of Severe Thunderstorm Warnings, lightning poses a deadly threat - if you can hear thunder, you likely are close enough to be at risk and should shelter inside until the storm passes.
The heat problem, however, was more widespread. The Maine Department of Environmental Protection released an advisory warning that ground-level ozone concentrations are expected to reach unhealthy levels. Air quality alerts have been issued for parts of Maine, Massachusetts and New Hampshire.
All of this heat means a few things: we want to drink plenty of water, dress in lightweight and light colored clothing, avoid exertion if possible and take breaks in air conditioning when possible, check on those without air conditioning and check the tire pressure in your car tires to avoid blowouts.
As for the chance of thunderstorms, we're always on guard with this much moisture packed into the atmosphere, but for Thursday it looks like the greatest risk is south of the Massachusetts Turnpike and in northern Maine, while Friday brings a better chance of scattered thunder across New England.
We could certainly use whatever rain we can muster. Though Wednesday's soaking rain wasn't tabulated in the latest government update on the drought status that was issued Thursday morning, the Lower Merrimack River Valley in Massachusetts has been upgraded to Extreme Drought status, along with Boston's northwestern suburbs and northern parts of the MetroWest. This Extreme Drought classification is the worst for the Commonwealth of Massachusetts that we could find in Drought Monitor records back through 2000, though New England, as a region, saw a worse drought impact in 2002.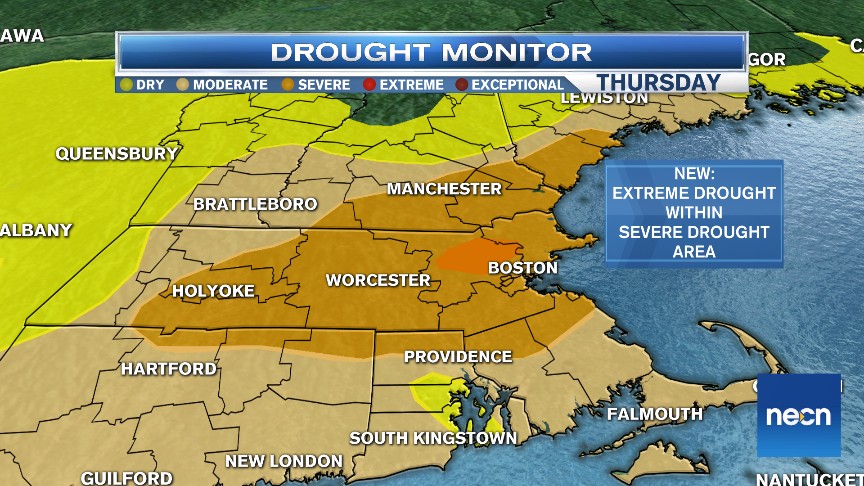 This weekend, a cool front will sag southward and increase the chance of thunder across the region while delivering noticeably cooler air to Maine and perhaps northeast Massachusetts on Saturday, then for more of northern and central New England Sunday, with areas farther south and west still in the heat and humidity.
Next week, multiple days will bring highs in the 80s with chances of afternoon thunder in the exclusive necn Early Warning Weather 10-day forecast.
Mayor Walsh and the City of Boston issued the following heat safety tips for all members of the public:
Adults and children should use sunscreen containing an SPF-15 or higher and wear protective, loose fitting clothing, including long sleeve shirts and hats.
The elderly, young children and those with chronic medical conditions, especially respiratory conditions, are more susceptible to the effects of heat.
Check in on the elderly and family or neighbors who may be at risk of heat exhaustion or heatstroke as temperatures climb.
Children and pets should never be left alone in vehicles, even for short periods of times.
If you become lightheaded, confused, weak or faint, stop all activity and immediately find shade or a cool area to rest. If symptoms persist, call 911 immediately.
Limit outdoor activity to morning and evening hours. Rest often in shady areas and be extra cautious from 11 a.m. to 3 p.m., when the sun's UV radiation is strongest.
Drink plenty of fluids regardless of activity level. Avoid alcoholic beverages and liquids high in sugar or caffeine.
Homeless individuals can become dehydrated rapidly due to a lack of access to water or shelter from the heat. If you observe someone who appears to be in distress, call 911 immediately.
If you have a child in your home, use child window guards in addition to screens on any open window on the second story or above. Falls are the leading cause of injury for children under the age of six. Information about low-cost window guards for Boston residents can be found here.
Secure all window air conditioner units according to the manufacturer's specifications.
Boston Centers for Youth & Families
will be available as cooling centers
for the public. The communities listed below have also established the following resources during this extended stretch of hot weather:
East Bridgewater: The East Bridgewater Emergency Management Agency would like to remind residents that we have plans in place to address the excessive heat situation affecting our area. Cooling centers may be provided if the situation warrants them.
Gloucester: Mayor Sefatia Romeo Theken has declared a heat emergency. The Rose Baker Senior Center, 6 Manuel F Lewis St., will be open for use as a cooling center for the public to use starting Thursday.
Groton: The Public Library, 99 Main St., and the Council on Aging, 163 West Main St., will be open to the community today. Provisions have been made for expansion if necessary.
Littleton: The Littleton Police Department Community Room (500 Great Rd.), Council on Aging Building (33 Shattuck St.) and Reuben Hoar Public Library (41 Shattuck St.) will be open until 10 p.m., or later if needed.
Maynard: The Town Hall cooling center, 195 Main St., is open to all Maynard residents until 4 p.m. today and from 8 a.m. to noon tomorrow. Water will be provided to residents who visit the cooling center. Additionally, the Maynard Public Library, 77 Nason St., will be available as a cooling center from 2-9 p.m. today and from 10 a.m. to 5 p.m. tomorrow.
Natick: The Natick-Community Senior Center (117 E Central St.) and the Morse Institute Central Library (14 E Central St.) will both be open as cooling centers all day today.
Newbury: Though no cooling centers have been designated, Newbury Fire Chief Nate Walker encourages residents to check on their elderly neighbors and keep a close watch on children during the heat wave.
Salem: The city has opened cooling centers at the Senior Center dining room at 5 Broad St., through 7 p.m., and the Salem Public Library, 370 Essex St., through 9 p.m.
Whitman: The Whitman Community Emergency Response Team is ready to staff a cooling center, should the town open one. Members are also standing by to staff the Fire Ground Rehab vehicle for any fires, to ensure firefighter safety and hydration. The Whitman Police and Fire departments are monitoring any spikes in EMS responses related to the heat and any other demands on service.
Bedford, NH: The National Weather Service has issued a Heat Advisory for Hillsborough County from noon to 7 p.m. The Town of Bedford's Library, located at 3 Meetinghouse Rd., will be open from 9 a.m. to 8:30 p.m. as a cooling shelter for citizens who need to seek relief from the heat.