A complex storm approaching from the south brings a mix of rain, sleet and snow to southern and western New England Monday from sunrise through sunset.
We will have cold, wet and, in some cases, very windy weather all day. At sunrise, we will have enough low-level cold for a period of sleet and freezing rain away from the shore in Massachusetts and Connecticut. Snow is likely for a while in the Berkshires, most of Vermont and southern new Hampshire early. As temperatures rise above freezing by mid morning, snow and sleet will be rapidly changing to rain. In northern Vermont, especially the Northeast Kingdom, most of northern New Hampshire and much of Maine, a few inches of snow are likely. Accumulating snow is on a line roughly from Rutland Vermont to Waterville Maine and points north.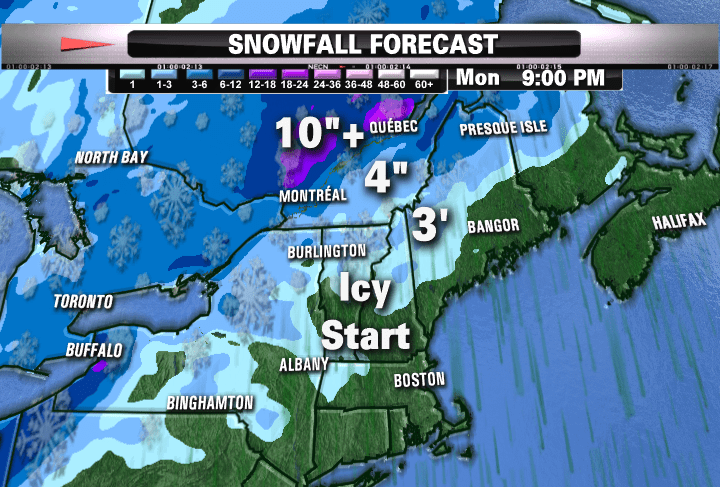 Rain is heavy at times with embedded thunder storms during the evening. Torrential downpours will result in deep puddles and minor urban flooding during the evening commute in southern New England where one or two inches of rainfall are expected.
Wind is mostly light and variable tomorrow, except for Rhode Island and Eastern Massachusetts, where wind will gust past 55 mph from the southwest. Wind advisories are in effect for this region Monday afternoon and overnight. Rain and snow will end with rapid cooling.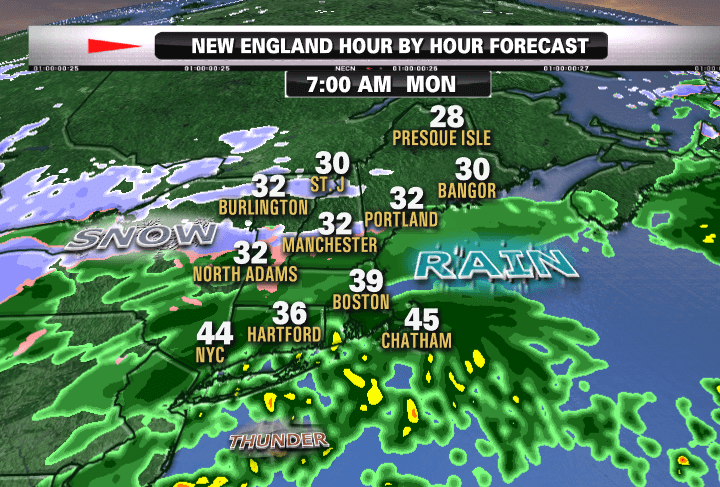 Tuesday morning, some icy roads are possible in the hills of New England as freezing air arrives and wet ground. In lower elevations south and east, we will dry out before freezing air arrives. Tuesday will be a mix of sun and clouds, a few mountain snow showers, high in the 30s north and west, to lower 40s south and east.
High temperatures will occur late morning for most of New England. Tuesday night and Wednesday should be mostly clear with lows in the 10s to 20s, and highs Wednesday will be in the 20s to low 30s. Winds will be from the west 20-40 mph.
Thursday will be less windy with increasing clouds, high in the 30s. with light snow or rain late in the day and at night. Rain or snow ends Friday with another batch of even colder air arriving, high Friday and Saturday in the 20s and 30s.
The long-range forecast calls for more heavy, wintry weather Thanksgiving week.
I am still thinking most snow plow operators will be called to duty again before or on Thanksgiving Day.
Or, maybe I am the turkey.