It's another Blizzard from Boston to Cape Cod, along with coast New Hampshire and all of Coastal Maine.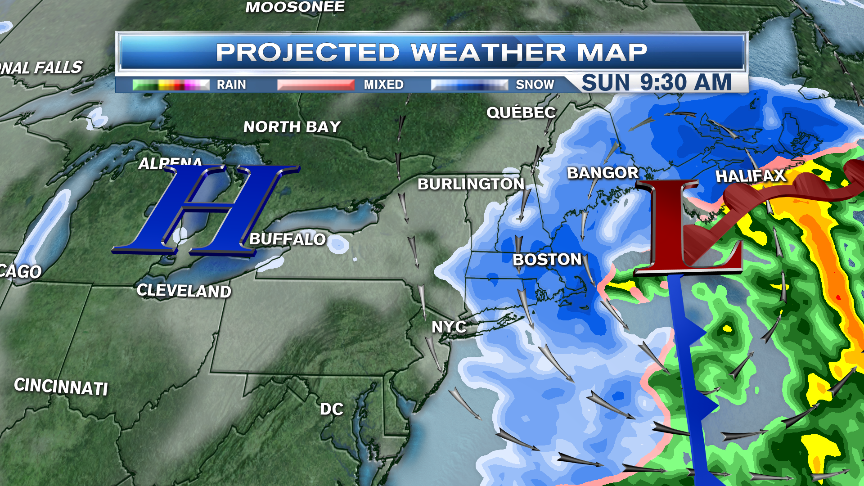 Weak low pressure moves into New York Saturday morning, then jumps to the ocean south of Long Island by evening. Light snow arrives Saturday afternoon with highs near 20, and relatively light wind Saturday is not a terrible day. Wind and snow really pick up at sunset Saturday. There may be lulls in the snow overnight, but that would be temporary. Feeding on the warmer water in the Atlantic Gulf Stream, combined with air directly from the North Pole the storm center will deepen rapidly in a dynamic referred to as Bombogenesis. It will then be captured by upper level wind, also developing into a closed cyclone. That means a brief slowing, or even stalling, of the surface storm northeast of Cape Cod, a path similar our January Blizzard. The difference this time is that storm strengthens a little farther east than last time and will not stall for as long. So instead of 36 hours of heavy snow, it's more like 18-24 hours of heavy snow. And instead of all of new England getting clobbered, it is mostly east of Narragansett Bay to the Merrimack River that is hit hardest. Central Pressure of this storm looks similar to January 27th, about 28.8 inches of mercury, but it's about 150 miles farther out to sea, and the High Pressure Center is more west, over the Great Lakes, but it's a stronger high. Central pressure of the High is near 30.8" a Tremendous Gradient! Wind generated by the gradient will gust past hurricane force at the beaches once again. Even where the snow is missing on Sunday, in western new England, we have gusts past 50 mph, with high temperatures only near 10 degrees. A very difficult Sunday, whether you are in snow zone or not. Snowfall of 6" or less west, increasing to a foot or two east. Blowing and drifting is a major reason to not travel in the blizzard zone Sunday.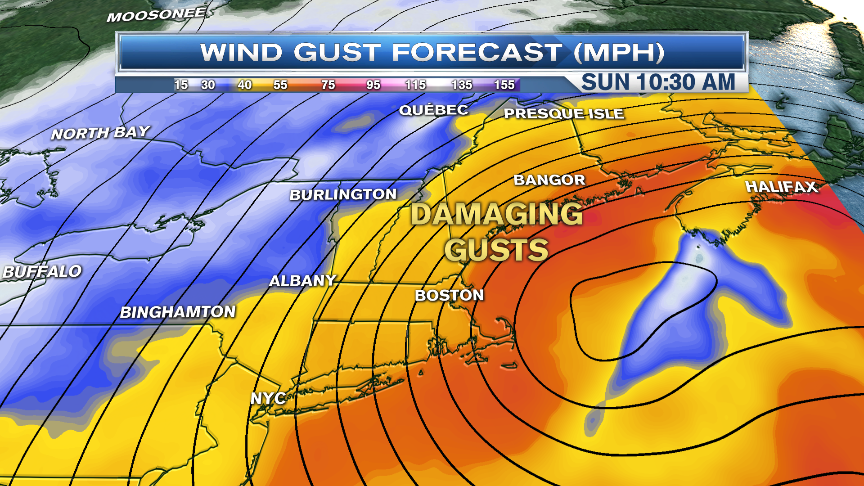 As of this writing, only minor coastal flooding is forecast at the early Sunday High Tide, but this may change. Our beaches are sure to take another major beating. A wild card is all the bay and harbor ice, it may jam up harbors and cause damage that may not otherwise occur. Snow will continue just about all Day along the eastern shores from Maine south to Cape Cod and Nantucket. The snow may be pasting to trees on Cape Cod and Nantucket early Sunday with temperatures near 33. But the air will cool, leaving a drier snow for the rest of the day.
All but eastern Maine clears Sunday night with temperatures below zero all the way to the Cape Cod Canal, plus winds of 30-40 mph. It's a brutally cold Sunday night. The sun is out Monday, but the biting wind and chill is only slow to dissipate. Tuesday looks sunny and cold, high near 20. Another coastal storm is possible Wednesday. But we can hope it mimics the last several Weds-Thurs systems and stays out to sea. It's the Sunday-Tuesday storms that have been the bad ones. There is no end to this pattern in sight. We have more sub-zero air next Friday and a possible Monday storm for February 23rd.