Overnight, the strong low pressure system that brought a gloomy, breezy Saturday with on and off downpours for most of New England, shifted northeastward and as winds shifted and howled out of the northwest, those rain showers changed over to snow, especially in the Green Mountains and the White Mountains. Some of the higher elevations received at least five inches of snow over the last 12-hours. The National Weather Service in Burlington released these reports that were sent in by the public, broadcast media, and ski areas. Snowfall totals in Bolton, Vermont reached nine inches and Randolph, New Hampshire reached 4.3 inches.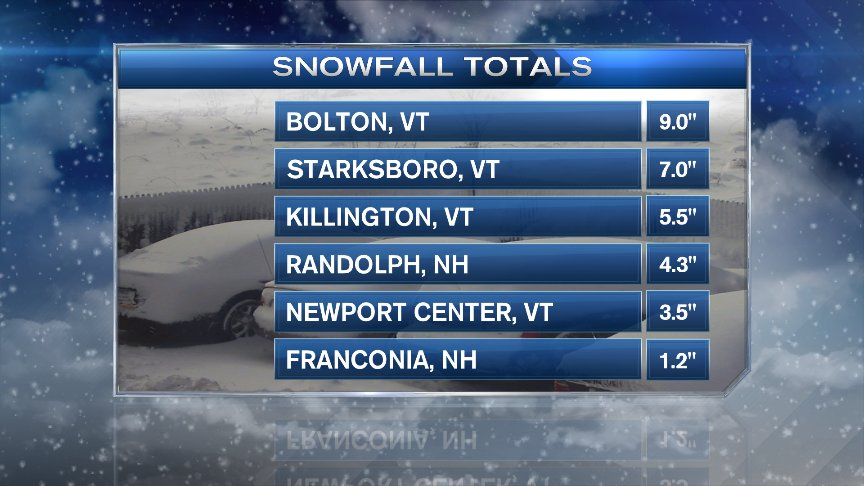 Now that the snow showers are not as widespread as earlier this morning since temperatures have warmed up slightly and the system has shifted slowly north and east, the main focus now is on the gusty winds that will prevail for the rest of our Sunday. We will see plenty of sunshine in southern New England, but wind gusts will still reach 40 to 50MPH especially along the Cape & the Islands. Wind damage reports of branches and trees down on power lines or across roadways in Massachusetts started to come into the newsroom earlier this morning. Gusts are expected to see another peak by mid-afternoon, so we could see more power outages and even more debris (leaves, small branches, etc) start to pile up on the roadways.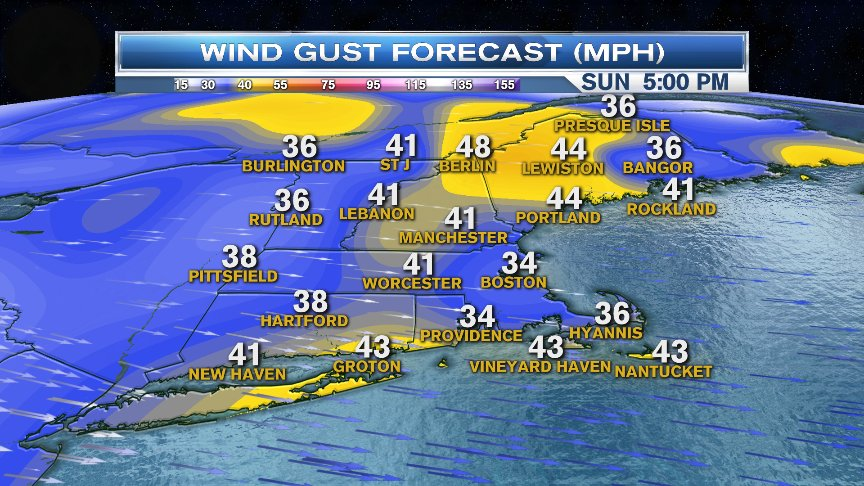 It will remain breezy through the overnight with a chance for rain mainly south of the Mass Pike as a clipper system moves in from the Midwest. Mostly to partly cloudy skies are expected for Monday with high temperatures into the mid to upper 50s. Tuesday and Wednesday, calmer conditions prevail, however, it will be unseasonably chilly with highs remaining in the upper 40s, but at least we are tracking plenty of sunshine for both of those days.
As always, stay tuned for the very latest forecast updates online or on the necn app for your mobile devices here: http://www.necn.com/mobile/