Tropical downpours slowing our Monday morning commute will lift out by afternoon, leaving sunny breaks and near record warmth, highs 60 to 70 degrees.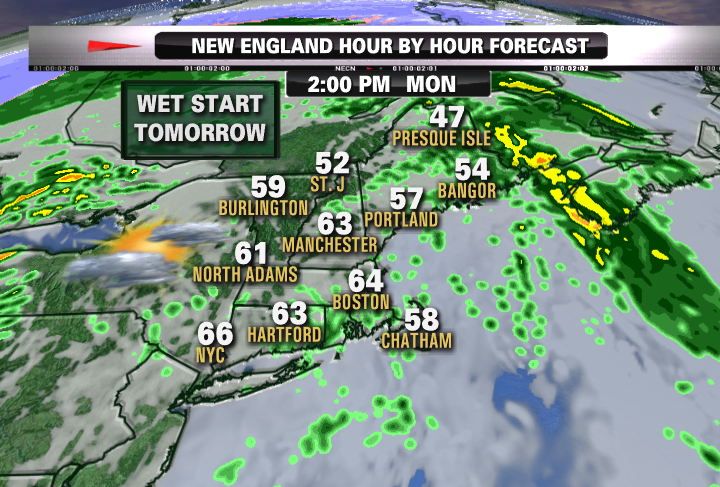 Wind from the south may gust past 50 mph with localized power outages. Late-morning high tide on our south facing shores may produce minor coastal flooding.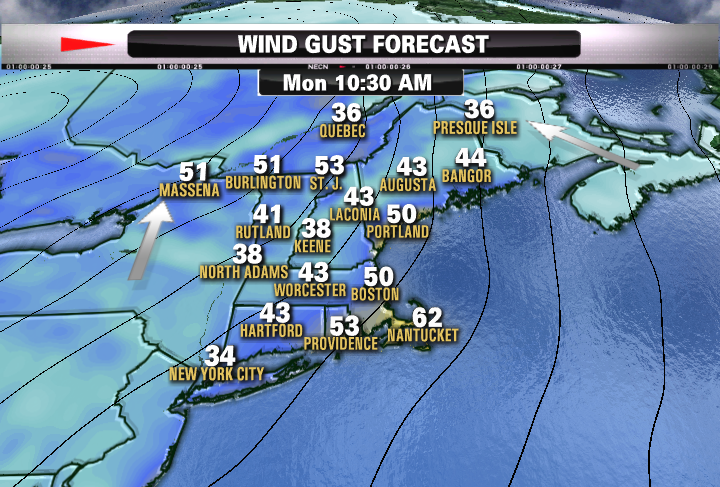 We get a break on Tuesday with a mild mix of sun and clouds, high in the 50s, west wind 20-30 mph. Colder air moves in Tuesday night under a fair sky, low in the 30s.
A new storm develops from the Gulf of Mexico to the North Carolina coast Wednesday morning. At the same time a new cold high pressure system moves into Ontario, this is a classic set up for a New England Nor'easter.
The timing is not good.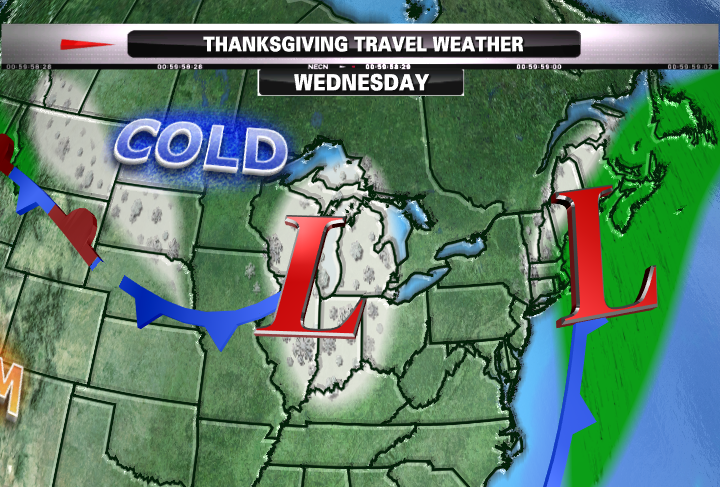 Rain and snow will develop from south to north Wednesday, first at the south coast midday, into northern New England by sunset. Initially, it is warm enough that the only accumulating snow is at elevations above 500 to 1000 feet. By sunset Wednesday, we have a rapidly deepening storm passing off the coast of Virginia headed for Nantucket. Colder air on increasing northerly wind will move the rain-snow line to lower elevations and right to the coast overnight Wednesday. Travel likely becomes very slow and stressful Wednesday night in most of New England. Snowfall rates of one inch per hour or greater may last six hours or more. That means a six-inch heavy, wet snow. Higher elevations may have a drier snowfall with amounts passing 12 inches by sunrise Thanksgiving Day.
Wind at the coast will be gale force, 30-50 mph, generating 10-12 foot seas with moderate erosion, and minor to moderate coastal flooding at high tide late Wednesday night.
Heavy snow in Maine and light snow in New Hampshire and eastern Massachusetts early Thanksgiving Day should end with partly sunny windy and cold weather for afternoon. Highs will be 32-42 form north to south, wind from the northwest 15-25 mph.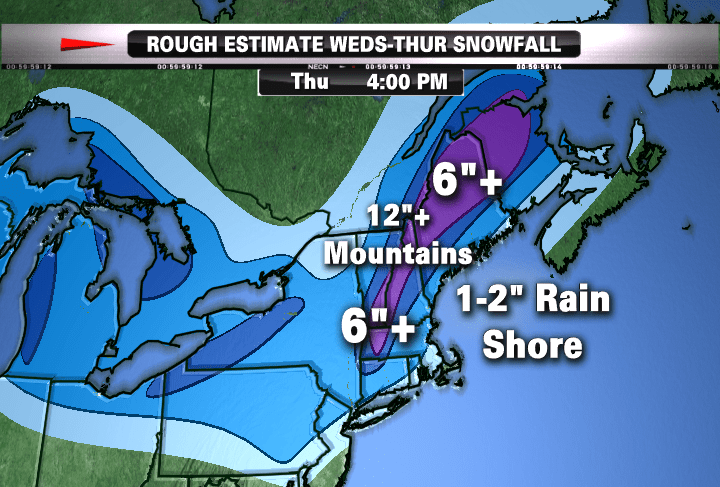 Friday looks windy and cold with a few snow showers possible. High will be in the 30s.