Outside of mountain snow showers we have sunshine and cold air for our Friday, Saturday, and much of Sunday.
High pressure from Canada is ushering the coldest weather since last winter, high temperatures generally in the 20s and lower 30s for the next few days. Wind from the northwest is gusting past 25 mph through tomorrow morning, generating an even colder winter chill.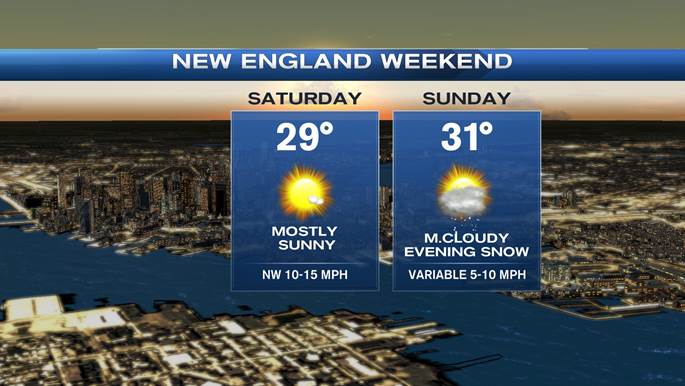 Last night it snowed several inches in Seattle, Washington, a rather rare event, that snow transits steadily westward, arriving in New England Sunday night.
Then from Monday morning on, we will have periods of snow, mixed with rain near the shore, on and off through the first half of next week.
The early call on Monday morning commute is for snowy roads in much of New England, enough for the plows to come out for the first time in the metropolitan areas of southern New England.
It's too early for exact accumulations but several inches are likely.
Low pressure will traverse New England during Monday afternoon with a lull in the snow and rain for Monday night and first part of Tuesday.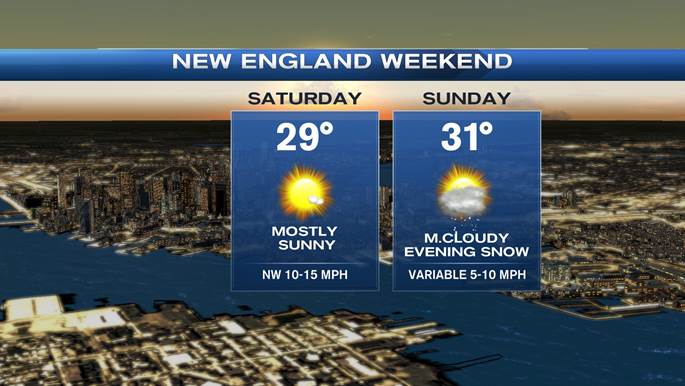 The weather pattern stays very active, with a chance of more snow, and coastal rain, on Wednesday.
Following whatever happens on Wednesday, even colder air comes in for the second half of next week.
High temperatures on Thursday and Friday may struggle to get above 20°.
Beyond that there's a chance of more wintry precipitation next weekend.
Many more details to come as we first glide through a bright cold dry weekend.
Enjoy the waxing 'Cold Moon' high in our New England sky each evening.