Summer will be making a comeback early this week. Temperatures could reach record high levels Tuesday and Wednesday. 80s will be fairly widespread in southern New England. The warm up has already started. Sunday marks the second time, so far, that temperatures climbed above 70° in Boston this October. Monday will likely be even warmer with widespread mid to upper 70s possible.
Gusty southwest winds will help temperatures soar (by October standards) into the low to mid 80s Tuesday and Wednesday. We're forecast a high temperature of 82° in Boston, which would tie the old record set back in 1947. Other records we're watching:
Portland: 82° (1947)
Caribou: 79° (1968)
Bangor: 84° (1947)
Concord: 85° (1947)
Burlington: 84° (1947)
Worcester: 85° (1908)
Providence: 85° (1908)
Hartford: 80° (1968)
Will this be the last gasp of summer? It very well could be. Check out this chart: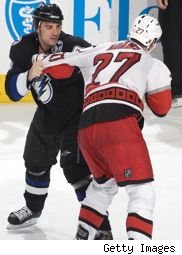 After Wednesday, it appears we'll cool off quite a bit. Temperatures will stay in the 50s during the day and drop into the 30s at night. That gives us (when looking a climatology) approximately one more week to warm back to 80°. Our latest 80° day in Boston: November 2nd.