The getaway car has been found, but the inmate who escaped from a Rhode Island prison over the weekend remains on the loose.
Federal officials say former Army reservist James Walker Morales — charged with stealing 16 guns from a U.S. Army Reserve Center in Worcester, Massachusetts back in 2015 — escaped from Wyatt Detention Facility in Central Falls, Rhode Island on Saturday night.
It is believed that Morales climbed onto the roof during outside recreation, then jumped down, and climbed barbed wire fence to get out.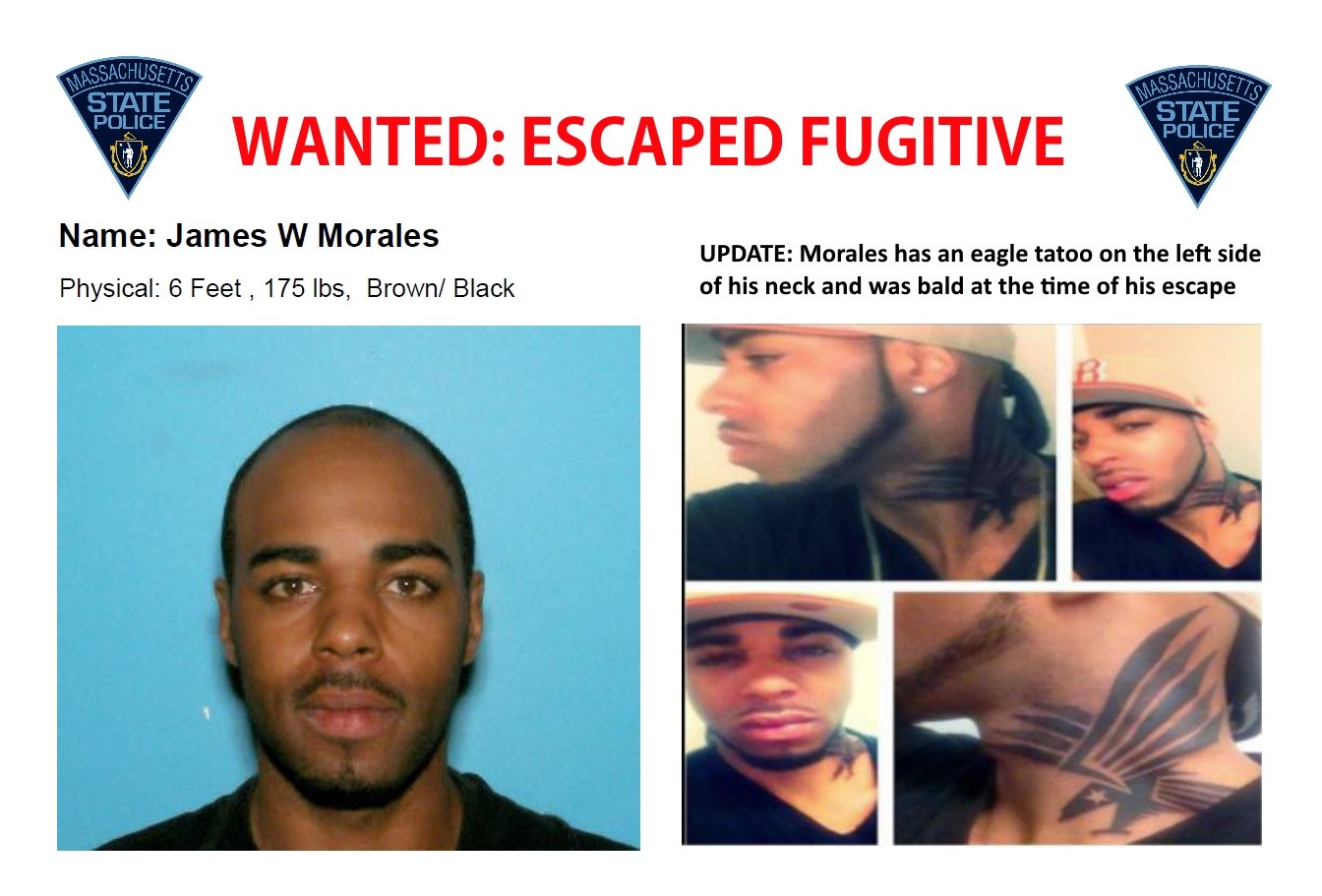 Blood was found in various areas of facilities, so officials believe Morales is wounded and bleeding from the razor wire. Investigators are searching area hospitals.
The facility was put on immediate lockdown.
Morales is described as 6'1" and 180 pounds with brown eyes and black hair. He has a large eagle tattoo on the left side of his neck and was bald at the time of his escape.
Early Sunday morning, a Massachusetts State Police K-9 Unit tracked Morales to the area under an Interstate 95 overpass near the Massachusetts-Rhode Island border. At that location, police found what appeared to be discarded prison clothing with blood on it.
The investigation suggested Morales stole a car from the parking lot of the BK Mart tobacco store on Route 1 in Attleboro, Massachusetts, around 7 p.m. An employee at the BK Mart says the customer who had her car stolen left it unlocked and running while she was in the store. She added the customer's phone was still in the car.
The stolen car has since been recovered; however, Morales was not inside and state police have not released the specific town or state it was found.
Two senior law enforcement sources tell NBC Boston the car was found in Massachusetts.
Authorities urge anyone who spots the suspect to call 911, and those with information are asked to call U.S. Marshals at 508-368-7300.
The FBI says Morales stole six assault rifles and 10 handguns from the Lincoln Stoddard Army Reserve Center in Worcester in 2015. Morales was arrested in New York days after the theft, and most of the guns were later recovered.
He has a long criminal history dating back to 2009, including a child rape charge for allegedly sexually assaulting his friend's young daughter.
The facility that Morales escaped from is not state or federally operated.
"Wyatt is a privately run facility," said Richard Ferruccio, president of the Rhode Island Brotherhood of Correctional Officers.
Ferruccio has worked in prisons for more than 30 years. Since Wyatt is privately run, he does not represent their officers.
"I would assume right now though that Wyatt Detention Center, as any prison facility or any jail would be, is in a lockdown conducting a security audit," he said.
Wyatt's correctional officer's union president declined to comment on the ongoing situation.