The sports world is reeling Tuesday after a Brazilian soccer team's plane crashed in Colombia, killing 71 people. But when a longtime NFL executive gave his thoughts on Twitter, the New England Patriots struck back.
"NFL club partnership so strong that if there were tragedy similar to Brazilian soccer crash other NFL clubs would restock affected team," former senior executive Joe Browne wrote in a tweet that has since been deleted.
The Pats did not approve of that approach: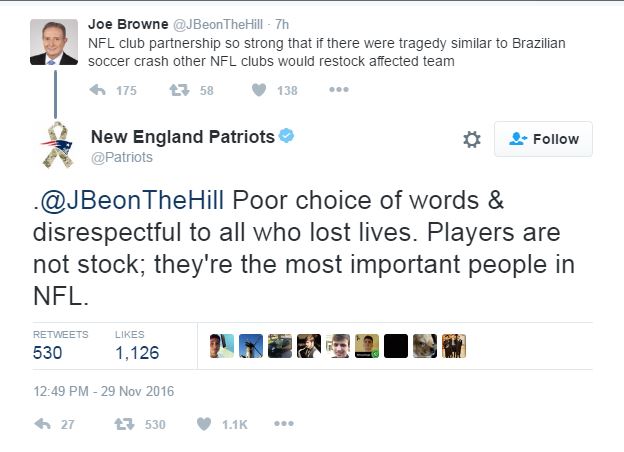 "Poor choice of words & disrespectful to all who lost lives," the team publicly replied. "Players are not stock; they're the most important people in NFL."
Hours after the team tweeted, Browne removed his message.
"Thought I was being informative today re terrible Brazil soccer tragedy but tweet was ill-timed and poorly worded. I've deleted it," he tweeted Tuesday night. "Superior move by Columbia [sic] soccer team to ask that trophy be awarded to devastated Brazilian club in memory of victims."
The Pro Football Hall of Fame gave Browne, who spent 50 years with the NFL, the Ralph Hay Pioneer Award earlier this year. He is the longest-serving league office employee in NFL history.
Attempts to reach Browne at FleishmanHillard, where his Twitter bio says he is a member of the international advisory board, were unsuccessful. The Patriots had no additional comment beyond the tweet.