The snow is over by the cold and ice remains outside this morning. Much of Northern New England still has temperatures below freezing. Evening snow changed to freezing rain and there is a coating of ice on everything, making travel very slick Sunday morning. Another batch of moisture is arriving this morning and is adding to the icy conditions. The worst of the freezing rain will be found in NH and ME today. Conditions will slowly be improving this by morning into the afternoon as temperatures warm, but I am afraid Maine will remain icy all day away from the coast line.
While this morning is wet, I think we will get a bit of a break this afternoon as a warm front will begin to lift north and bring in breezy and milder SW winds which will transport milder air briefly into New England with highs climbing into the 40's and 50's by late afternoon. But we will have to watch out for the cold front this evening! Energy will ride up along the front and trigger showers and maybe a thunderstorm across SE MA and the Cape & Islands tonight along with gusty winds.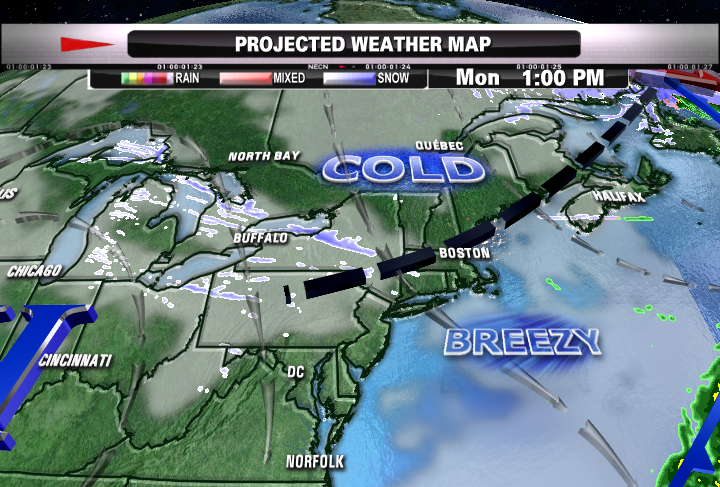 Monday will be a dry day with mostly sunny skies and fair weather clouds. Gusty WNW winds will direct colder air back into New England with highs in the 20's and 30's. Gusts up to 30-50 mph will be possible.



Clouds will be increasing Tuesday along with a weak low which will track south of New England and deepen. There is not much moisture along with it, but depending upon the timing, track, and strength...this has the potential to produce a few inches of snow across Southern New England with the highest amounts likely at the coast. Minor amounts of 1-4" of snow would be the best estimate right now. Tuesday will also become colder with highs likely only in the Lwr 20's



Behind that low will come a bitter blast of air right from the Arctic. It has the potential for record breaking cold. It will be the coldest air we have seen since last winter. Temperatures will plunge Wednesday night below zero in many areas, with dangerous wind chills ranging from -15 to -30! That is some real Arctic cold! By Thursday, Arctic sunshine will be in place. Highs in the single digits North, and only 10-18 degrees in Southern New England. Luckily the Arctic blast will be short lived. It will remain cold for the end of the week, but not quite as extreme. More comfortable air will be in place by next Sunday. Have a great week and get ready for the cold!