High pressure responsible for several nights of sub-zero temperatures is moving off the Mid-Atlantic coast Sunday Night. Its circulation of wind from the southwest will push warmer air into New England overnight and Monday. Along with the warmer air is low pressure on a warm front, transporting moisture from The Gulf of Mexico. This means a wintry mix moves in before sunrise. We may have snow for a short time in Connecticut, Rhode Island and the southern half of Massachusetts, but the air higher in the sky will quickly warm above freezing, and snow will quickly change to sleet and rain. However the more dense cold air near the ground will be a little slower to release. They dynamic of less dense warm air surging in above the cold, is called 'over-running.' We are in store for several hours of 'over-running' precipitation Monday
The current cold air, and especially cold ground, means rain will fall and then freeze on contact, in parts of New England for the Monday morning commute. Especially vulnerable to icing is the entire state of Connecticut, much of northern Rhode Island and Inland Massachusetts between the Massachusetts Turnpike and route 2.
North of route 2 Massachusetts the air will be cold enough that all the precipitation will fall as snow. It is not a heavy storm. But the timing is not good. Snow and ice arrives just before sunrise.
On these maps 'Timing Wintry Mix', the blue is snow, pink is ice, and green is rain. Even though thetemperature gets to 35 by midday, the ground will be slower to warm.
The freezing rain should accrete .1" to .2" or less, a thin film. But it only takes a thin film to cause treacherous walking and driving on untreated surfaces.
Snowfall in central and northern New England looks most likely early in the morning. With intermittent light snow afternoon.
The rain in southern New England may continue through the evening commute. By then, only the coldest non treated surfaces will still be icy.
However, there will be rapid cooling by sunrise early Tuesday, that may result in black ice all the way to the south coast and Cape Cod for sunrise Tuesday.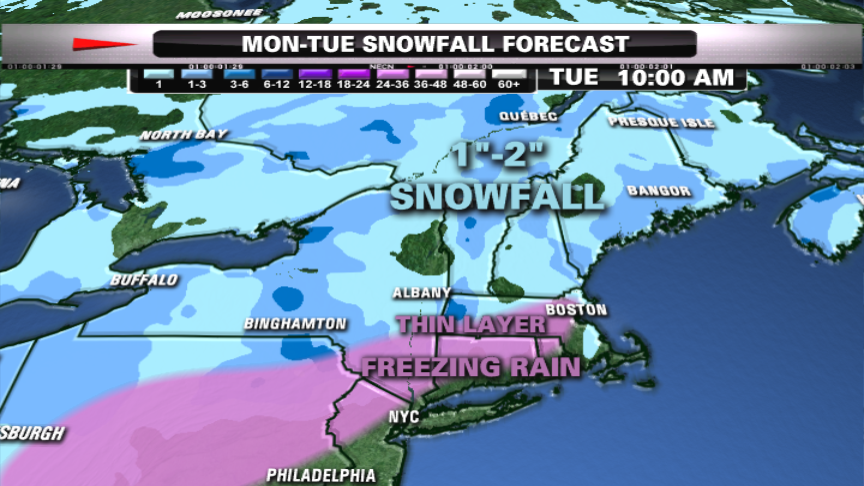 Tuesday looks cold and dry as High Pressure moves into southeastern Canada.
The future of offshore storms late this week is uncertain, but odds are favoring them staying out to sea. Localized light snow may develop in Eastern Massachusetts due to an onshore flow though.
By next weekend we are on the verge of a January thaw. But that may be spoiled by a back door cold front (with snow) next Sunday or Monday.