The forecast remains on track with a round of wintry weather arriving Saturday afternoon into the evening. If anything the precipitation is arriving slightly ahead of schedule. Cold high pressure sits over us this afternoon providing plenty of low level dry air. But the clouds are thickening and we will soon be seeing snow flying by the mid afternoon hours. An area of low pressure will track up through the Great Lakes, and deepen as it approaches the St. Lawrence River Valley. Warm air will be directed from the southern States into the Northeast. This warmer air is overrunning the cold dome of air in place across New England. Temperatures in all levels of the atmosphere will be plenty cold enough to support snow for a few hours, before any mixing takes place.
Temperatures are also very cold on the ground with temps mainly in the teens and twenty's this afternoon. Any snow that does fall will start to accumulate fairly quickly. Roads will become snow covered fairly quickly as well. The peak time of snow in Southern New England will be between 5-9 PM. Here is a general overview what the radar will look like at that time. Roads will become pretty slippery this evening so please use caution if you will be on the roads.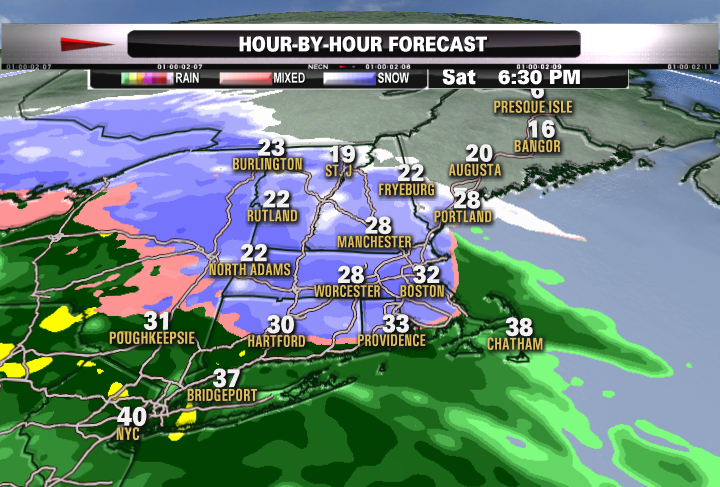 A moderate thump of snow will happen at this time with the potential for a few inches of snow on this front end away from the coast. The Worcester hills along the RT 2 corridor and the Berkshires have the best chance for 3-4" of snow. Strong SW WINDS aloft will direct warmer air into New England pretty quickly this evening and we will be seeing the snow rain line quickly advancing into Northern New England later this evening towards midnight. Many in southern New England will be changing to rain by 9-10 PM.
What we have to watch for during the later evening hours is cold air damming. With a high to our north, it is supplying the cold low level air which can get stuck in the valleys. Rain falling in the warmer air can freeze on the colder surfaces. Freezing rain in our NW valleys remains a concern through the overnight hours with temps very slow to warm in the lowlands. After a few inches of snow there is the potential for this freezing rain to last for several more hours. Ice and snow will add weight to trees which could snap and topple on power lines. This is something we will be monitoring overnight. Again, hazardous travel later this evening in these NW valleys due to ice.

Across Northern New England, the cold is deeper and will hold on longer into the evening allowing several more inches of snow to fall, especially in the higher elevations. It is a widespread 3-6" snowfall in the north with isolated higher amounts over 6", especially across NH and the mountains of Maine. Snow will change to an Icy mix around or shortly after midnight. A real sloppy mess of storm!

By dawn on Sunday, most will be over to rain, but pockets of freezing rain and drizzle will persist in the NW valleys. So icy areas will still be a concern early. Eventually, a warm front will lift through Sunday bring in milder air with temps climbing into the 40's and 50's by afternoon ahead of a cold front which will still trigger showers into Sunday afternoon and evening. We will be picking up about a half inch of rain when all is finished by Monday. Breezy SW winds with gusts to 30+ mph possible ahead of the front. Breezy WNW behind the front Monday will direct colder air again to New England for next week which looks like a cold one!