With the line of thunderstorms that moved through southern New England last night, dropping torrential, yet much needed rainfall to the areas under extreme drought, it was just too much of a good thing for some locations. Worcester, MA saw 5.24" of rainfall by 9PM Friday night, while towns from CT, RI, MA, southern NH, and coastal ME, saw between 3-5" overnight.
This slow-moving system still remains over New England for the weekend as this low pressure continues to strengthen and move north and eastward, bringing strong, gusty and possibly damaging wind gusts to the region for Saturday night into Sunday. Strong enough to bring some trees down, or at least small branches, causing power outages. The high winds expected for tonight into Sunday has prompted for Wind Advisories to be issued along with Gale Warnings up and down the New England coastline with gusts over the water up to 45MPH, inland between 30-45mph gusts expected through Sunday evening.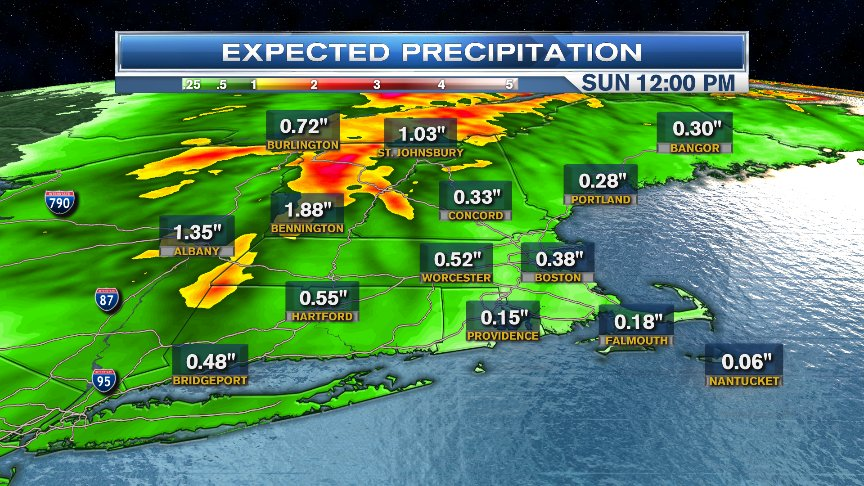 Snow for higher elevations is expected to pick up later Saturday evening into early Sunday morning.Pockets of snow showers could extend as far southward to the Berkshires & Litchfield Hills of northwestern Massachusetts. Otherwise, we're just tracking more on and off rain showers for southern New England, which could add an additional 1" for areas that saw the heaviest rainfall overnight. Drier conditions return for the second half of Sunday, but the strong wind gusts will stick around. At least we track more sunshine for the second half of Sunday and calmer conditions for the start of the work week.