Late summer and early autumn typically brings peak tropical cyclone activity, and this year is no different.
First of all, we continue to monitor the remnants of Erika. The storm triggered deadly flooding in the Caribbean, but became disorganized and weaker after running over the mountains of Hispaniola. You'll recall a few days ago we presented several potential paths for the storm. One possibility was that Erika may become a hurricane near the Bahamas. That scenario would've likely played out had the storm stayed over warm Atlantic waters, but instead a slight jog to the west sent the storm right over the Dominican Republic and Haiti, essentially ripping it to shreds. However, what's left of Erika is still dumping several inches of rain in parts of Florida, resulting in flooding around Miami early Sunday morning. Wind gusts to tropical storm force have been reported in the Florida Keys as well.
Also early on Sunday, a brand new tropical storm formed in the Atlantic. Tropical Storm Fred is located just off the coast of Africa, and is likely to impact the Cape Verde islands over the next few days.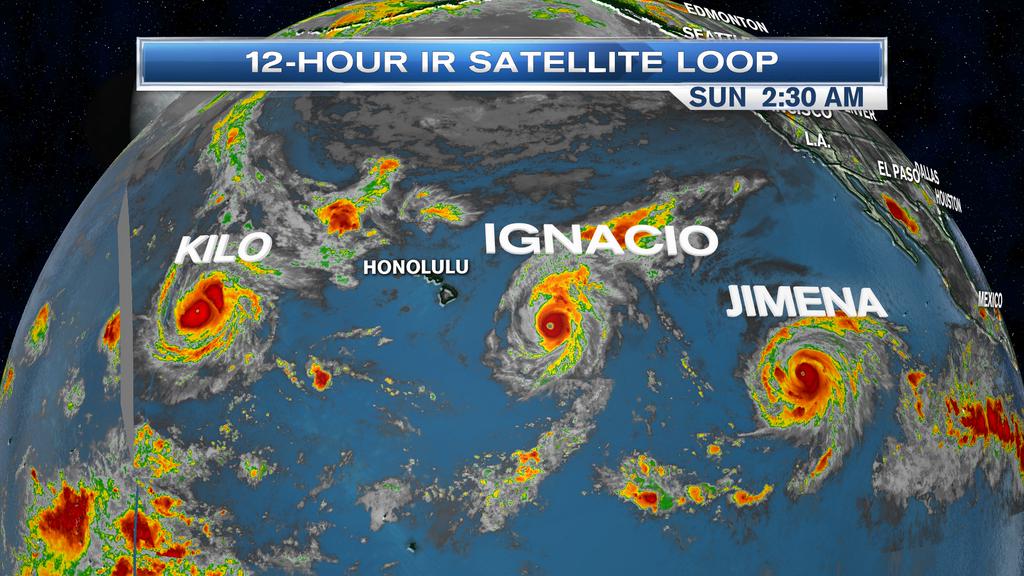 The most impressive tropical action right now is actually in the Pacific. Three major Category 4 hurricanes are spinning there as of Sunday morning. Hurricane Kilo is now west of Hawaii, but Hurricane Ignacio is approaching the Big Island. At this time, the most significant impacts from that storm will likely stay offshore. Still, huge surf is likely throughout the Hawaiian Islands. Farther east, Hurricane Jimena is also being monitored.
While there's no tropical activity that will impact New England in the near term, this week marks the anniversary of Irene. That storm made landfall as a hurricane in New Jersey back in 2011, before weakening to a tropical storm as it moved north. Drenching rains led to devastating flooding across much of the Northeast, including Vermont and Western Massachusetts.