Detective Sgt. Robert Kennedy has spent more than two decades working for the Stoneham Police Department.
His steady six-figure income apparently isn't lucrative enough to pay the monthly rent.
"It just baffles me how it could go on," said Ron Gifford, one of the police officer's former landlords.
Gifford rented a Woburn home to Kennedy and his wife years ago, but the details are still fresh.
Excited to have a police officer as a tenant, the landlord did not do a background check before offering a lease. Gifford now describes that decision as a mistake.
On two different occasions, Gifford and his wife, Elizabeth, initiated eviction proceedings for unpaid rent, according to court records. The couple said Kennedy would come up with some cash to put a dent in the arrears and talk them out of moving forward in court.
"It was bad right from the get-go," Gifford recalled. "The rent was always late. I always had to call them. They always had excuses. It was just constantly chase them, chase them, chase them."
Eventually, the Giffords reached their financial breaking point and followed through on eviction proceedings in 2008. They took possession of the property on Pearl St and won a judgment of nearly $6,000, according to court records.
Speaking from their Florida home 15 years later, the elderly couple told the NBC10 Investigators they are still owed the money.
"It was very disappointing to believe that a police officer would do something like that," Gifford said.
Pattern of evictions
After getting a tip, the NBC10 Investigators found the Giffords' experience is far from an isolated incident.
In early 2020, Kennedy and his girlfriend moved into a Stoneham apartment complex. Within months, they stopped paying the rent. While many people lost work when COVID raged across the country, payroll records show Kennedy earned more than $187,000 in from regular wages and detail assignments that year.
Once the pandemic's eviction moratorium was lifted, the landlord took them to court in June 2021 and won a judgment of more than $24,000.
Records show Kennedy, representing himself in the case, filed several motions to stay the eviction order but was unsuccessful.
Kennedy and his girlfriend then moved to a different apartment complex in Reading in October 2021. A similar pattern quickly emerged.
By December, the landlord had already started eviction proceedings for unpaid rent. This time, when the case concluded, the judgment was more than $30,000.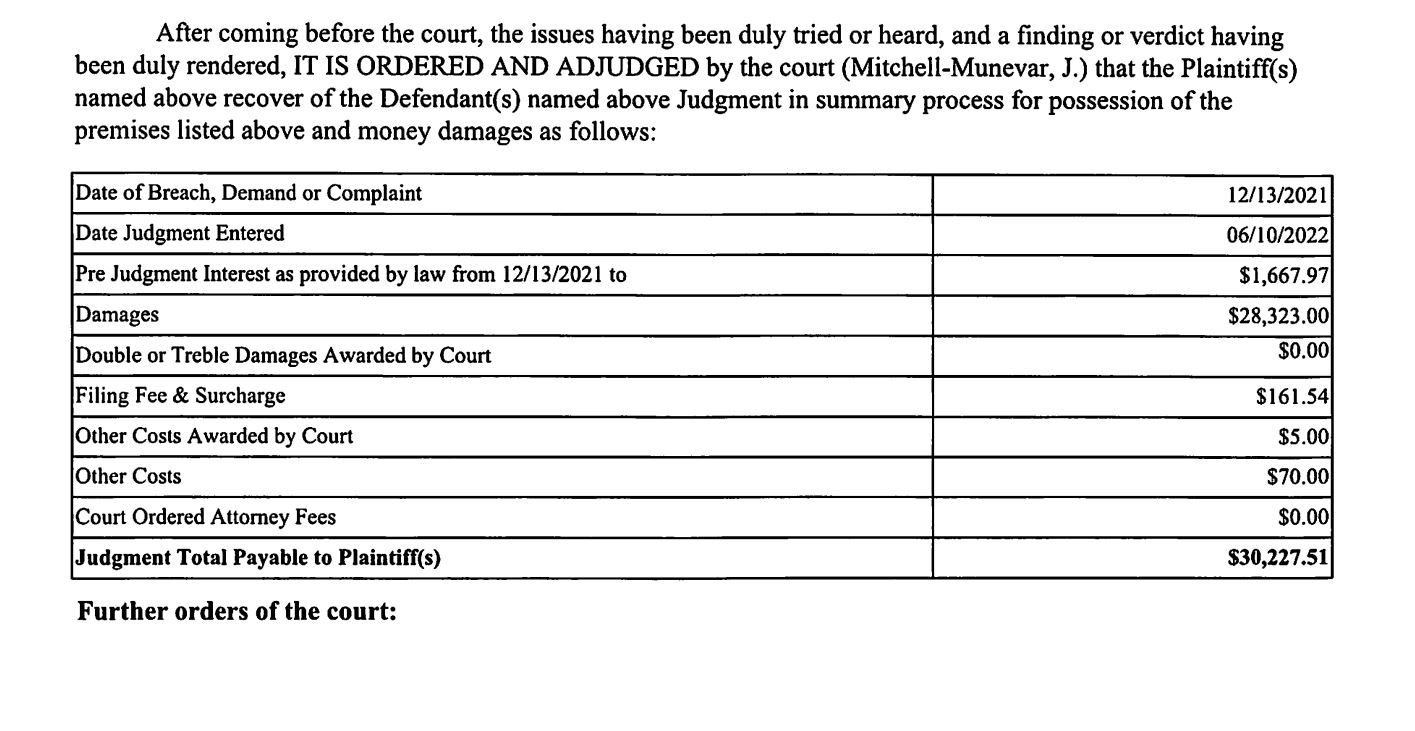 Over the three-year period when Kennedy and his girlfriend were evicted from two different properties, payroll records the NBC10 Investigators reviewed show he made roughly $531,000 as a Stoneham police officer.
"I'm sure he knows exactly what he's doing," Gifford said. "He got away with it a couple of times and said, 'This is a good thing. I'm just going to continue doing it.'"
Bankruptcy filing raises more questions
The NBC10 Investigators found eviction cases dating back 20 years, nearly as long as Kennedy has been employed in Stoneham.
The only gap in time when he seemingly wasn't stiffing a landlord was after he purchased his parents' Stoneham home in 2012.
Despite a relatively modest mortgage of less than $2,000 per month, land records show Kennedy quickly fell behind on payments.
When he filed for bankruptcy in 2015, he was $18,000 in arrears, according to court documents.
"In most middle-class families, the most important expense and the expense that gets paid first every month is the housing expense," said Frank Morrissey, a bankruptcy attorney who reviewed Kennedy's case.
Morrissey said other than a car payment, there were no other liabilities reported in his bankruptcy filings that would offer a clue as to why Kennedy struggled to pay the mortgage. For instance, there was no evidence of things like credit card debt, child support payments or medical expenses.
In fact, even if Kennedy had paid the mortgage, his own bankruptcy filing indicates he still should've had several thousand dollars of disposable income each month.
"It's unusual if someone has the money to pay their monthly housing expense and they don't do it," Morrissey said. "What's the explanation? Where did the income go?"
Town property records still show Kennedy and his wife are still owners of the home.
A search of court filings also uncovered a couple of recent small claims cases against the police officer. One in June 2021 was a heating oil company that said it hadn't been paid for a $229 delivery.
"He has not paid, after saying he was going to," the plaintiff wrote. "He acknowledged receiving our messages, and said he was sending a check, but never did."
Records show the case was dismissed after neither party showed up for the hearing.
The other was pursued in August 2021 by his ex-wife, who said she was not paid back after loaning him $1,500 in 2021. She received a judgment by default when Kennedy failed to appear in court.
"My personal financial history is no one's business"
We reached out to Kennedy to discuss our findings and try to get answers to some of the questions that surfaced during our investigation.
By email, the detective sergeant said he welcomed the opportunity to explain his situation.
However, after he missed two deadlines to set up an interview, the NBC10 Investigators approached Kennedy when he arrived for his shift at the police department.
Instead of stopping to answer questions, Kennedy got back into the passenger seat of his truck, and his girlfriend drove away.
An hour later, he emailed this statement:
"It's disgraceful that my exemplary 23-year career as a Stoneham police officer is under attack. My personal financial history is no one's business. The financial decisions I've made have not been ideal. I'm working as hard as I can every day to rectify my situation. This should not cost me my distinguished career as a police officer protecting my hometown that I love."
As part of our investigation, we requested Kennedy's internal affairs file. The documents revealed only one citizen complaint and no sustained allegations of misconduct.
Stoneham Police Chief James McIntyre said he was aware of the NBC10 investigation, but did not elaborate on how he planned to address the details of our reporting.
"The Stoneham Police Department does not comment on individual personnel matters but is committed to enforcement of its Rules and Regulations and policies regarding professional standards," McIntyre said in a written statement.
When asked about whether Kennedy's financial situation is a matter of public interest, NBC10 legal analyst and dean of the Massachusetts School of Law Michael Coyne said significant debt poses a concern in law enforcement positions.
"The things we do in private, in secret, those are things that are going to affect how people view our professional roles and potentially how we perform those professional roles," Coyne said.
Coyne added that it could be problematic if people are chasing a police officer for unpaid debts.
"Most police officers at some point are going to testify in court," Coyne explained. "Does that affect their credibility if they have a string of unpaid judgments outstanding? This isn't just the appearance of impropriety. I think most people would find it grossly improper under the circumstances."
Several landlords and property managers declined to speak publicly with NBC10 Boston, citing concerns about possible retribution.
Questions about testimony, rental assistance
Concerns about credible testimony are surfacing in Kennedy's own eviction cases.
According to housing court documents, the police officer told a judge he had no prior history of eviction.
"This is an embarrassing situation. I never thought in all my years I'd be sitting here, talking about this," Kennedy said in June 2022 court audio obtained by NBC10 Boston.
As part of the eviction action filed by the apartment complex in Reading, the landlord accused Kennedy and his girlfriend of falsely answering a question about whether they had been previously evicted.
"The false information you provided on your rental application is a direct violation of your lease agreement," the housing court documents said.
There are also questions about taxpayer-funded rental assistance.
In several instances, Kennedy filed motions to delay eviction proceedings because of a "pending RAFT application."
The Residential Assistance for Families in Transition (RAFT) is the state program that provides up to $10,000 of rental assistance to help keep people in their homes.

During a court hearing last August, the judge asked Kennedy if he and his girlfriend were indigent.
"Well, we are overwhelmed right now, your honor," Kennedy responded. "In one way, do I make money? Yes, I do sir. In another way, I can't pay for everything on my plate right now."
According to eligibility requirements, a household of two can't make more than $56,100 to qualify. Kennedy makes triple that income on his own.
"This is egregious to me," said Laurel LaGatta, an attorney representing the landlord, during the court hearing. "He makes ample salary. He wouldn't even qualify for RAFT if he applied to it. And he owes in excess of $30,000 at this point."
Which raises the question about how Kennedy and his girlfriend received $10,000 in rental assistance in April 2021 while living at the Stoneham apartment complex, according to housing court documents.
A spokesperson for the Department of Housing and Community Development, which administers the funds, said it couldn't answer questions about a specific RAFT case because of privacy reasons.
It is one of many lingering questions about money, and why the veteran police officer isn't spending it to keep a roof over his head.
"It is a shame we would have an officer that does that to the public," Gifford said.
Ryan Kath can be reached at ryan.kath@nbcuni.com. You can follow him on Twitter or connect on Facebook.
Have a tip for the NBC10 Boston Investigators? Email us at tips@nbcboston.com.