Authorities are responding to more roof collapses around New England as clean up from historic snowfall continues around the region.
According to Massachusetts Emergency Management Agency, more than 80 building collapses have been reported since Feb. 9. The buildings include homes, the agency said.
In Braintree, Massachusetts, Mayor Joe Sullivan said the city is monitoring a situation at a Kmart that was closed due to roof collapse concerns. Sullivan said there is some cracking on the interior ceiling and the snow is being removed by the company.
Katherine Reynolds had to turn back around after she found out the Petsmart two doors down was also closed for business, since the shopping mall owner had crews clearing the roof of all the stores.
"Store's closed, we'll keep moving on. This is the first time I've left the house in two weeks," she said.
Meanwhile, the awning above a commercial building on Tewksbury's Main Street partially collapsed around 9 a.m. Wednesday. Police say the building, which had several businesses, including a daycare, was evacuated and there were no reports of any injuries.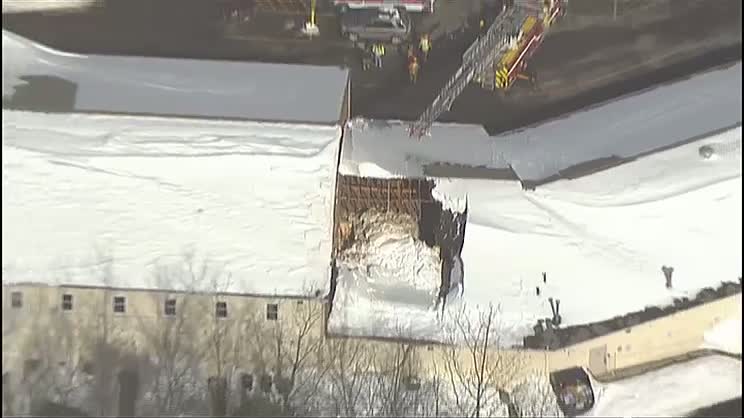 In Sutton, a roof collapsed at the Sutton Square Plaza. Sutton police say all of the businesses in the plaza, including the U.S. Post Office, have been closed, and there is no access to the plaza parking lot. Fire, police, EMS and the building's inspector are waiting for a structural engineer who will check the building's condition for roof clearing of the remaining snow drifts.
"The average weight of the snow on your roof right now is about 7 pounds because its light and fluffy. Start adding water to that, it triples to 21 pounds and I'm talking 21 pounds or 7 pounds per cubic foot," Massachusetts Department of Public Safety Commissioner Thomas Gatzunis said.
Officials recommend homeowners and business owners pay attention to the walls for signs of cracks.
"If things are changing dramatically, something's happening," Gatzunis said.
MEMA also reported the following collapsed buildings, partially collapsed buildings and buildings at risk due to snow-releated damage:
Wilmington: 45 Industrial Way
Waltham: 73 Pond St.
Manchester-by-the-Sea: 157A Pine St.
Beverly: 425 Cabot St.
Salem: 435 Highland Ave. and 220 Highland Ave.
Clinton 18-20 High St.
The damage at a Boston furniture store was noticed by a crew of Suffolk County inmates clearing sidewalks.
"We're opening up all the handicap ramps, crosswalks, hydrants, basically any area of foot travel," Suffolk County Deputy Sheriff Michael O'Day said.
The store was issued a violation for its damaged gutters and lackluster snow removal, but officials say the goal isn't to punish businesses and home owners - it's to prevent problems like these.
"Clean the snow, ice off the roof that'll stop the damage from continuing," John Meany, Assistant Commissioner of Boston Inspectional Services, said.
So Boston Inspectional Services has been driving and walking around the city identifying problem properties that have snow on the roof or porches that could have structural integrity issues as it warms up or the rain comes.
"Be really observant of what's going on in your buildings and your yard, taking care of these roof drains I can't stress that enough because once this thing starts cycling through it will create more problems," BIS Building Commissioner William Christopher said.
Christopher says you also need to pay attention to signs that your roof is having problems, such as leaks, creaking and cracks in the structure.