Another wintry mix type storm tracks through the northeast tonight. A First Alert is up for all of New England through the Thursday morning drive into work.
TIMING:
Snow is already falling across Connecticut and Rhode Island on Wednesday evening. The evening drive will be overcast, but we hold off on the snow until about 8 p.m. in Boston. Snow spreads all across New England from southwest to northeast Wednesday night. The snow changes to a wintry mix across the Berkshires, Connecticut and Rhode Island around 10 p.m. Boston's changeover to a wintry mix will be between 11 p.m. and 1 a.m. Freezing rain and/or sleet will continue through the predawn hours Thursday. It is a battle between warmer air nudging in aloft and colder air locked in at the surface and farther north. The precipitation decreases in intensity a bit by 5 a.m. as we continue to see a mix across southern Vermont, New Hampshire and downeast Maine. It will continue to snow across the mountains and interior Maine throughout the whole event. It will remain icy from Boston to areas north and west, with surface temperatures around freezing. Cape Cod and the South Coast will be rainy around 5 a.m. Between 6 and 7 a.m. there will be lingering areas of drizzle southeast, and freezing rain around Boston, Merrimack Valley, to southern New Hampshire and the Worcester Hills. Temperatures gradually increase from south to north Thursday morning. By afternoon, the ice and snow will melt and highs will be nearing 50 across southern New England. Temperatures will be around freezing to the north, so there will be lingering snow showers and ice, moving out by afternoon, but staying slick all day.
SNOW & ICE TOTALS:
Snow will accumulate between 8 p.m. and midnight for Boston, then switch to a mix and light freezing rain. One to 2 inches of snow and sleet accumulation is expected by the predawn hours. The ice remains across the interior, about a glaze to 0.1 inch by 5 a.m. As temperatures rise, the snow and ice melts away. Southern New Hampshire will see 2 to 3 inches of snow, there will be a coating to 1 inch across Hartford and Providence, 3 to 6 inches of snow across Vermont, New Hampshire and Maine, and over 6 inches in the mountains.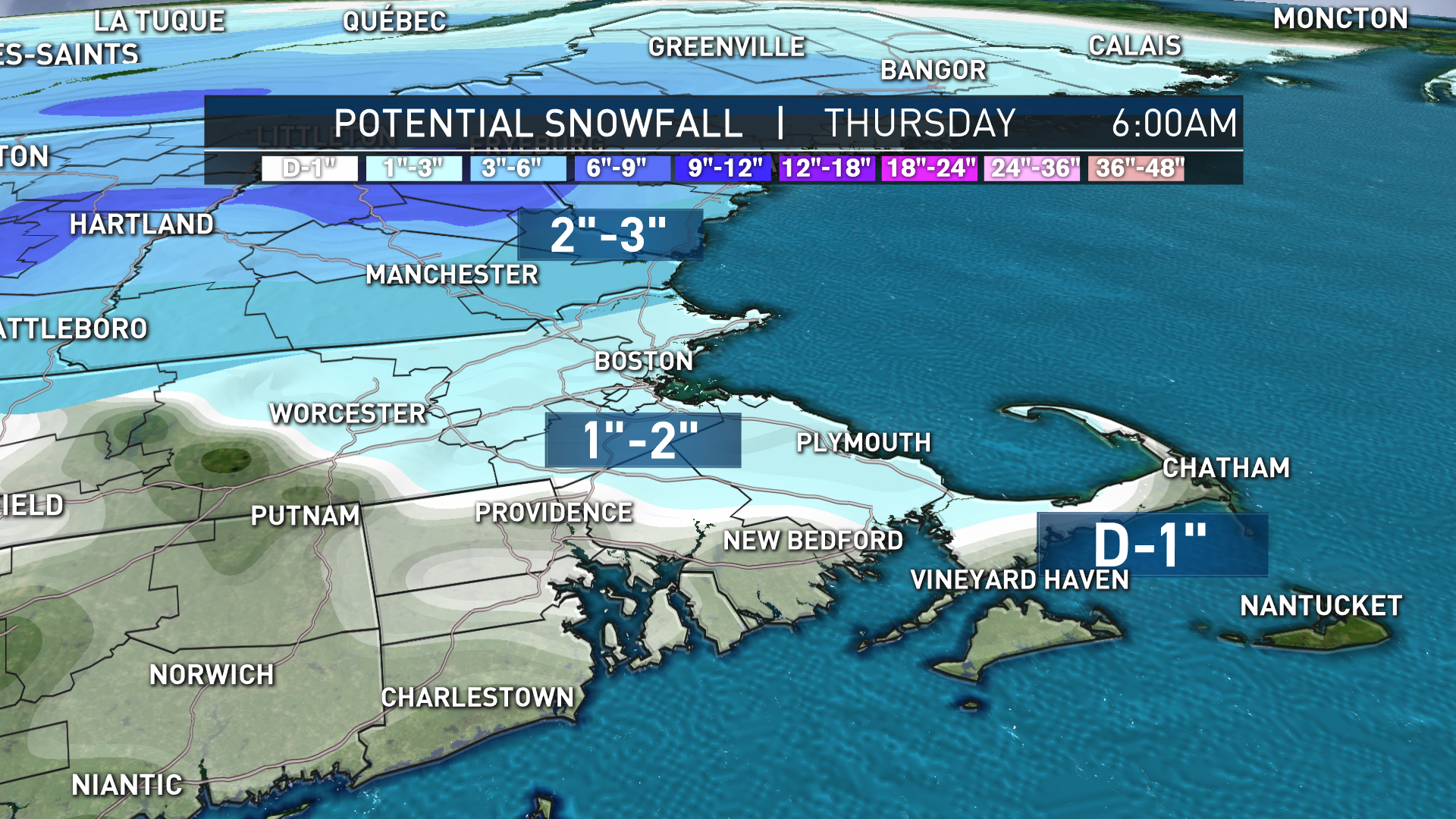 COASTAL FLOODING:
We had a supermoon on Tuesday morning, and our tides are extra high for Thursday afternoon. We have king tides this week, which means these are the highest tides of the year. Tide height will be around 12 feet in Boston at 12:21 p.m. without a storm surge. With some wave action offshore (5 to 7 feet) due to the passing storm, this may increase the tide height by a half foot. So typical areas that flood will see minor pockets of flooding a couple hours before and after high tide.
WEEKEND:
Friday will be mostly sunny, with highs in the lower 40s and breezy. The weekend starts off seasonable and partly cloudy, but another wave of low pressure approaches. This storm passes northwest of New England, so this means a brief chance for a wintry mix, changing to rain across southern New England as highs soar into the mid 40s.
10-DAY OUTLOOK:
High pressure takes over Monday and Tuesday, with highs in the mid- to upper-30s. Monday we battle the wind as gusts could get quite strong. We stay in the 30s for the end of the 10-day forecast. Forecast models indicate a system passing near us Wednesday into Thursday and another possible shortwave Friday, both bringing a wintry mix chance.
[NATL] Extreme Weather Photos: Record Heat Threatens Europe